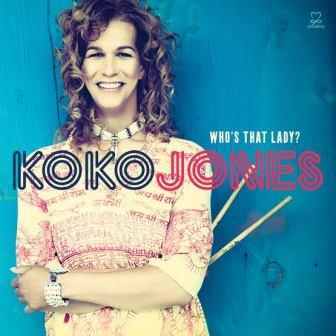 Whitney Houston has been one of my favorite artists of all time since I met her in the 1980s, during my college years. She was very kind to me when I was at her concert all dressed up and looking a mess. So when I heard that Koko Jones, Houston's former percussionist (as well as The Isley Brothers' former percussionist) who's also a songwriter and lyricist, had embarked on her first album since coming out as a trans woman, I took notice and became very excited to talk to her about her life and music.
Koko has performed and/or recorded as a first-call percussionist for some of the best-known names in pop, R&B, jazz, house and African music. In addition to Whitney Houston and The Isley Brothers, her résumé includes names like Carlos Santana, Angela Winbush, Raul Midon, Marcus Miller, Randy Weston, Jose Feliciano, Buddy Miles, Clarence Burke, Louie Vega, Luisito Quintero, Michelle T. Williams, DJ Kenny Dope, Archie Shepp, and Reggie Workman. Her last two albums (released under the name Kevin Jones), Tenth World (2005) and Tenth World Live! (2008), drew major kudos from critics and audiences alike.
Her latest album, Who's That Lady?, which is her third album but her first since transitioning, showcases all her talents and takes the listener on a journey through time, exploring four decades of her personal evolution and artistic capabilities. It is a timeless musical narrative of her past, present and future.
The Nov. 18 release of Who's That Lady? happens to coincide with the annual Transgender Day of Remembrance on Nov. 20, and several tracks on the album reflect either her personal struggles as a trans woman or universal issues facing the trans community at large. "Why" honors those trans individuals who have lost their lives to violence or suicide, and "Turn It" pays tribute to the heroes, past and present, who strive for civil rights, justice and equality. "I'm Free" celebrates the joy of reveling in who you really are despite societal norms and constraints. And "Xtravaganzas" pays homage to the House of Xtravaganza, one of the most important cultural institutions in the trans community.
Koko and I discussed her courage to finally become her true self and the hardships she faced in the music industry once she began her transition. I found her spirit warm and inviting as we discussed the many difficulties of transitioning. We both are very grateful to be alive and able to fulfill our goals and dreams, but we remember all those we have lost along the way to violence, discrimination and hatred. Koko's love of self comes through bright and strong.
Listen to the live discussion between me and Koko Jones below:
Check Out Hip Hop Music Podcasts at Blog Talk Radio with
ToniNewman
on BlogTalkRadio with
ToniNewman
on BlogTalkRadio
Being whole, honest and truthful is the key to a happy life. Love of self is the key for you to be able to love others on this Earth. Being who you were meant to be is a beautiful thing. Don't be afraid, and don't be scared to be your authentic self. You are loved and valued and accepted by God, and no man or woman can take that away from you. Stand tall and be proud, and good things will follow you.
Koko Jones' new album, Who's That Lady? (Motéma Music), is scheduled to be released Nov. 18. To learn more about Koko and her music, please go to kokojones.com.